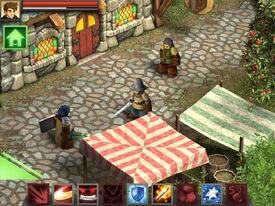 Eston is a town in the south-eastern part of Haggerdom. It is one of the first towns the player will go to. It contains an academy, an empty building with a chest, a blacksmith, and a bar.
Quest
Reward
Location
Goblin Extermination
100 Gold
Guard standing outside Blacksmith
The Sighting of a Witch
2 Gold

Unlock the Witch trainer

Bar
The Hunt for the Superb Ore
Sword, Mace, Dagger, or 250 Gold*

Blacksmith

The message about the Solar Shards
N/A
Main Street
Reward(s) marked with a [*] mean(s) that it depends on the player's decisions.
Ad blocker interference detected!
Wikia is a free-to-use site that makes money from advertising. We have a modified experience for viewers using ad blockers

Wikia is not accessible if you've made further modifications. Remove the custom ad blocker rule(s) and the page will load as expected.