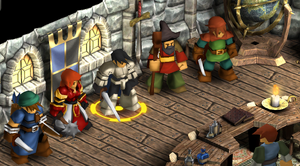 Paladins are stalwart holy warriors who are proficient with blunt weapons.
Through Charisma, Strength and Endurance, they wreak havoc to the wicked.
How to Unlock
Edit
The Paladin class is unlocked by default. In Downtown Eston, go to the Academy; it is the very first building on your left and has a sign with a book on it. The Paladin Trainer is second from the left sporting a classy Crimson Regalia.
Paladin Skills
Edit
Skill
Description
Cooldown
Requirement

Divine Hammer

Perform a weapon strike which manifests a divine hammer, striking your foes with holy damage. Requires a melee weapon.
10 sec

6 CHA

50 Gold

Punishment

Increases critical strike chance with unarmed attacks and blunt weapons by 10%
Passive

6 STR

7 CHA

75 Gold

Aura of Light

For 10 seconds, all of your attacks will heal you for 25% of the damage dealt.
20 sec

6 STR

6 END

9 CHA

100 Gold

Power Infusion

A surge of holy energy increases all damage you deal by 50% for 10 seconds.
30 sec

8 STR

6 END

11 CHA

125 Gold

Stalwart

Increases your maximum health by 15%.
Passive

9 STR

7 END

13 CHA

150 Gold

Wrath

Infuse your weapon with divine wrath for 10 seconds, causing your auto-attacks to deal additional damage, and chain holy lightning to nearby targets.
20 sec

11 STR

8 END

15 CHA

175 Gold

Cleanse

Removes all negative status effects from your body, such as poison.
8 sec

12 STR

10 END

17 CHA

200 Gold

Might

Increases your melee power by 20% of your armor value.
Passive

13 STR

12 END

19 CHA

225 Gold

Holy Word

Utter a word of prayer to heal your wounds.
30 sec

14 STR

14 END

21 CHA

250 Gold

Devout

Increases the damage of holy attacks by 10%
Passive

16 STR

15 END

23 CHA

275 Gold

Mirror Shield

Surrounds you with a shield which reflects projectiles for 8 seconds.
25 sec

18 STR

16 END

25 CHA

300 Gold

Word of Retribution

Whenever you heal yourself, your damage is increased by 20% for 10 seconds
Passive

20 STR

17 END

28 CHA

325 Gold

Radiance

A flash of holy light consumes the battlefield damaging and knocking foes to the ground.
20 sec

22 STR

19 END

31 CHA

350 Gold
Ad blocker interference detected!
Wikia is a free-to-use site that makes money from advertising. We have a modified experience for viewers using ad blockers

Wikia is not accessible if you've made further modifications. Remove the custom ad blocker rule(s) and the page will load as expected.